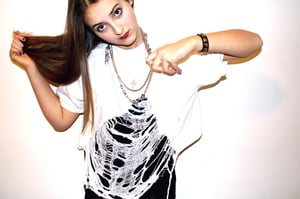 $

15.00
Custom ripped tops. Many different styles. View "options" bellow to see different styles. One size fits all.
This shirt is super stylish very Raquel Allegra.
Wear them with your Dr.Martens or your Louboutins.
You will look fucking hot.
++++++++++++++++++++++++++++++++
Hand wash in cold water.
Hang to dry.
+
IF YOU WOULD LIKE SOMETHING SPECIFIC YOU CAN EMAIL US AT REBELLEZINE@LIVE.COM, TO TELL US YOUR SPECIFIC NEED, AND YOU CAN ORDER YOUR SHREDDED SHIRT ON THIS PAGE.